Sharing bike - from smart lock to the cloud platform
2018-02-25 16:48:06
Smart lock on a sharing bike,which unlocking has gone through three optimizations.From SMS unlock to GPRS unlock to GPRS + Bluetooth unlock,and finally to the current narrowband Internet of Things (NB-IoT) unlock.
Narrowband Internet of Things (NB-IoT) As an emerging technology in the field of IoT,with the gradual maturity of the industry chain,especially the chip technology,and with the broad support of operators,it has gained more and more recognition for its application in the field of shared bicycles.
Compared with 2G,narrowband Internet of Things has a wide range of coverage,more connections,low power consumption,low cost and many other features.Narrowband IoT with features of low power consumption,no need to install a manned device for shared bicycles,the using of solar panels alone or with batteries to meet sharing bicycle power requirements,the narrowband IoT is more broadly to cover the features of an underground garage,basement and other remote areas.Receive signals to ensure continuous operation of the vehicle online.Narrowband Internet of Things program has the advantage of low cost,can greatly reduce vehicle design costs.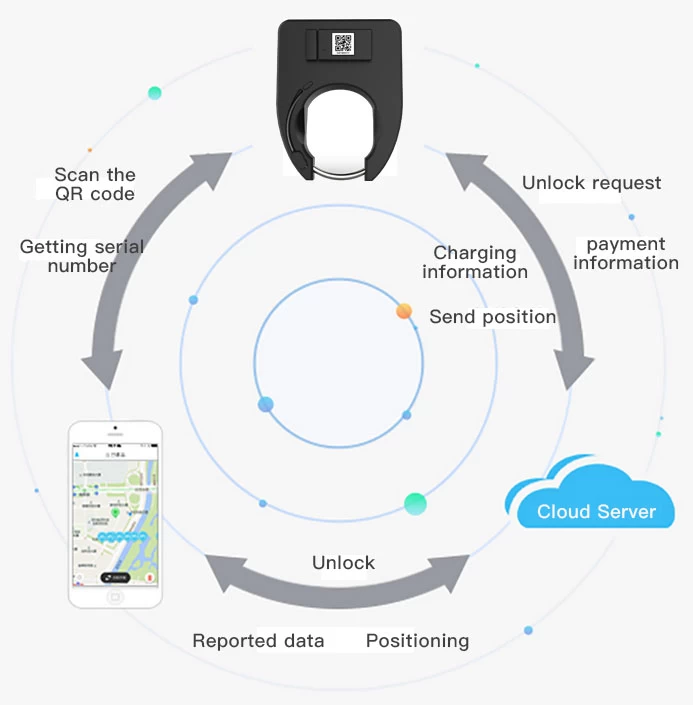 If smart locks are the key to sharing bike,the cloud platform behind it for managing operations is the soul of a shared bike.This type of shared bicycle smart lock can be purchased directly or with supporting factories can get smart lock quickly.
The core of the problem is the cloud platform behind the lock.The true nature of sharing bike is the requirement of effective docking and people and build the IoT data for bicycles and bicycles.In orderTo achieve the intelligent bicycle,smart lock development and production is only the first step,the more important thing is the back-end server behind its cloud platform.