What is M136 IoT device?
M136 is an IoT device for bike and ebike sharing.The product is recommended to be installed on the seat stays of bicycles and electric bikes, its outshell is sturdy and hard.The device equips 4G,GPS,BLE,power management,G-sensor,voice notification and other functions.
IoT device works with mobile APP and server to achieve the functions,such as QR code lock and unlock,positioning,tracking,vehicle information collecting and reporting,vehicle control,and voice notification to meet the demand of bike sharing and rental e-bikes business.
How does M136 IoT device look like?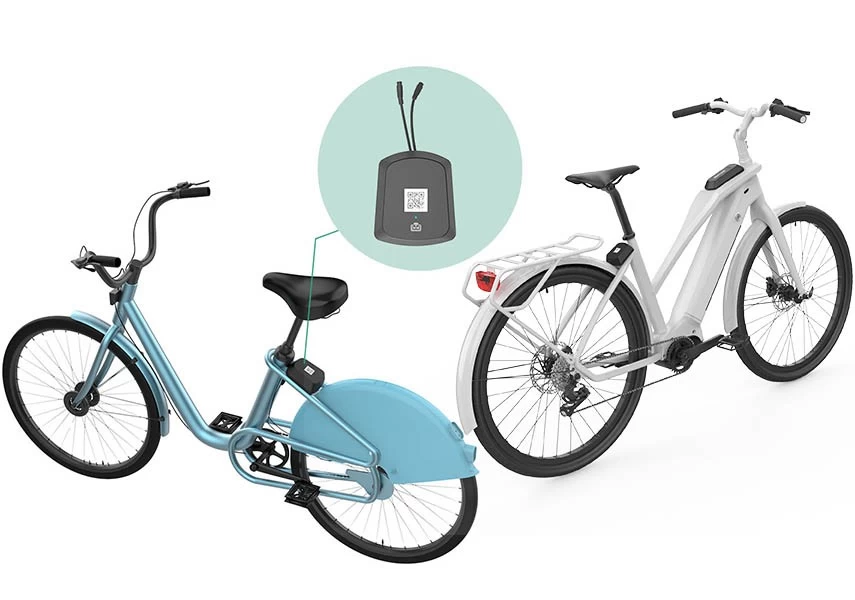 Product Features
IPX7 waterproof
Multi-mode and high precision GPS location
BLE 5.2
4G LTE-Cat1
Clear Voice Notification
Wide Workin Voltage
Solar Charging(optional)
UART Communication
RFID(optional)
Low Power Consumption
It's also a smart lock solution with built-in IoT functionality for bike sharing industry.Some people know it as bicycle sharing system.
With the great help of professional IoT technology and much resistant tests before launched,there's no worry about high maintenance charge which caused by immature operations.
It's worth mentioning that whole solution includes bikes and ebikes,IoT device,user APP and server background.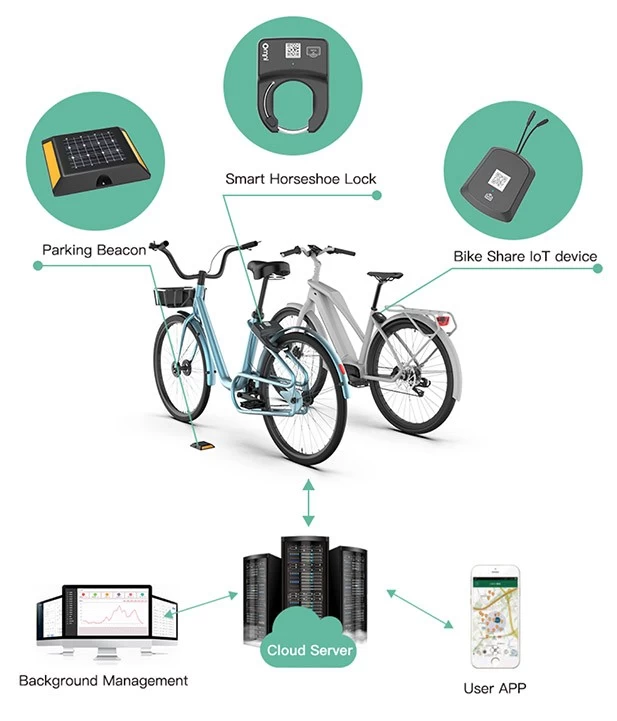 What are the IoT functions?
1) Lock and Unlock
Receiving the command of lock and unlock transmitted from APP or server, the IoT device will control the external brake lock to lock and unlock (it can only be locked when the wheel stops rotation). When succeeded in locking and unlocking, the voice notification will implement and IoT device will report to APP and server.
2) Voice Notification
Voice types:unlock,lock,vibration alarm,vehicle shutdown,find vehicle,etc..Voice content can be updated remotely.
3) 4G Communication
Connecting with server via TCP(SIM card should be available with traffic),remotely lock and unlock, battery information report, position report, warning report,heartbeat report,firmware information report,OTA remotely upgraded and others can be achieved.
4) Bluetooth Communication
Communicate with the APP via BLE to achieve the function of lock and unlock,information report,OTA upgrading and other functions.
5) GPS Position
The device equips multi-mode position module,which can collect the longitude and latitude information.
Two modes of position:single and real time.
GPS needs to receive the signal from satellites,thus,there will be no position information when the IoT is in basement,under the bridge,indoor or other sealing area. While it is under the tree or near high building,or the whether is bad, position drifting will appear.When the device starts position first time, the beginning coordinates may drift.Then the operator can do filtering processing on server.
6) Solar Charging(Bike Only)
The device supports an external solar panel for charging.
Power of panel suggestion: 6V/5W.
7) DC Charging
The device supports DC charging(2.1/3.5mm 6V/2A), for fast charging in emergency.
Note: The device will be reset when using DC charging.
8) Indication Light
DC charging:Red light on
Online:Blue light on
9) RFID(optional)
Equip built-in RFID reader, supporting A card and B card.
When swiping card, the IoT will transmit the ID to server. After verifing authority, the command of unlocking will be sent.
10) Vehicle Communication (Ebike)
The device supports the communication with vehicle through command and EN pin to control the controller to be on or off and get the battery information of vehicle,mileage,speed,gear,firmware information,riding time.It also supports the upgrade of controller firmware by 4G and ble.
11) Bluetooth Beacon Fixed Parking
With operating Omni beacon, fixed parking can be achieved.