The scooter sharing rental system includes IoT device,electric scooter lock APP,background management,cloud server.And we can say the IoT device is a smart electric scooter lock.
How to unlock and lock electric scooters intelligently
IoT device works with APP to unlock and lock electric scooter
When users start to ride,they just need an electric scooter app,scanning the QR code on IoT device which mounted on scooters via Bluetooth or network for unlocking.
Double press the button to light up or turn it off.
And press the same power button to switch speed,all features are real time displaying in the APP.
While riders reached their destination,they just need to click Lock and Bill on APP,and the e-scooter locked.Ride Summary indicates total time and fare for a whole journey.
GPS tracking for scooters
The IoT device that we can call smart electric scooter lock can communicate with scooters and send GPS information to scooter sharing or rental companies' server.This enables a best inspection for public rideshare scooters,like campus riding,public city's riding,and convenient riding in tourism area and working place etc..
Electric Scooter Security Lock with Alarm
For all-round monitoring of scooters,the IoT device is achieving a lot of functions.
The shared electric scooter is anti-theft before unlocking.
When someone wants to disassemble the e-scooter IoT device,the communication cable line will be disconnected.Once this happens, the alarm comes and helps.The alert is sent to server and scooter sharing companies get the notice and take action.The alerts are also for low power,illegal movement and shaking of the scooters,falling to the ground,and vehicle's fault report to manage and protect all the vehicles to the best of its ability.
A Speed Lock
Riders can change the speed mode according to their preference.And the device could load all the speed information to server.
Electric Scooter Light
The IoT device has its lighting method for safe riding when it's dark.There are two ways to turn on the scooter headlight.One is to press power button and another is programming controlled.
How to Use the Power Button on Scooter IoT device
Please pay attention that the button only works while the scooter is unlocked successfully.Long press the button locks the electric scooter and short press turns to shift gears.Short press the button twice will turn on the scooter headlight or turn it off.
About the Buzzer
The device can make voice reminders to riders while alarm happens or scooter unlocks.The voice can be customized.
Electric scooter rental application software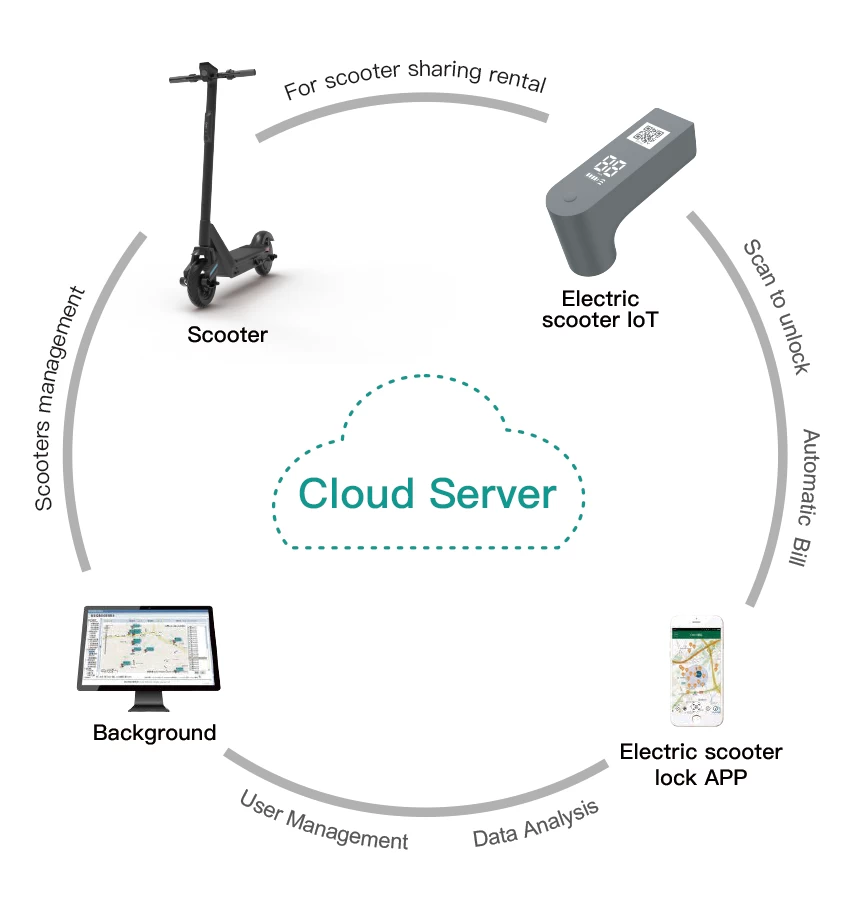 Omni is knowledgeable and experienced for scooter sharing system based on advanced IoT technology.What importantly to mention is that e-scooter sharing software solution and app development is mature and sophisticated so as to get rid of costly infrastructure and unnecessary manual inspection.Stable operation globally.
Omni can provide technical specifications to communicate with the scooter using your APP and to send the GPS information to your own server.
And all the appearance,logo,functions can be customized.Omni would send you an integration guide for all the process and take care of all the issues until electric scooter sharing business starts up successfully and nicely.Surely,after-service works well if there's any other problems.