Bluetooth APP parking lock achieve the parking space rental and sharing parking spaces
2018-05-22 17:58:08
Many drivers will encounter driving to their destination,but there is no parking space nearby.This situation is very painful.If you have a parking APP in your phone,you can search for idle private parking spaces for rent nearby.Use the mobile phone APP to intelligently lock and rent to give you temporary parking.In this way,parking car is no longer a problem that bothers the driver.
Booking a parking space in advance and it is convenient to park at any time.Shenzhen Omni Bluetooth smart parking lock APP can be used for owner,but also can share the parking space and manage parking spaces.Omni sharing parking lock can also achieve revenue function,in the idle time can put the parking space to rent,help the drivers who need to park,while they have additional income.
Bluetooth Parking APP parking lock function introduction: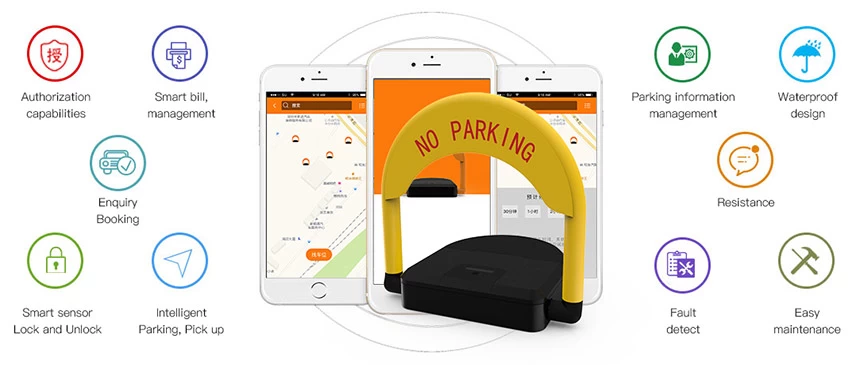 Omni provides customers with sharing parking APP development services.On the sharing parking terminal platform,users can complete the following operations.
● Positioning: The service locates the user's current location and displays a list of sharing parking spots near location.
● Search: Users can search for parking spaces nearby in any geographic location.
● Information release: The parking lot owner or parking space owner can publish the idle time of the berth through the platform.The owner who has the parking demand during the time period can make an appointment and use it for compensation.The parking space owner or the parking lot can obtain a certain amount of income.
● Authorized sharing: The owner can operate the authorization sharing function in the background to authorize his/her own parking spaces to enable one parking space can using for multiple people.
● Appointment of parking space: When the parking space demander has a parking space demand in a certain area,he can reserve an empty parking space in advance within the time selection,and search for the parking space early to avoid the car to the designated place can not find the parking space,saving vehicle parking time.
● Guided Navigation: Accurate map indexing,with navigation function,automatically generates the most recent navigation route by accessing the map,so that the owner can more accurately find the parking space entrance.