Omni sharing bicycle lock, the phone is the key to the lock
2017-10-20 15:50:32
2017 is a year of sharing economy, The world is in the popularization and acceptance of shared economy. Sharing bicycles, sharing piano, sharing cabinets, sharing umbrellas, sharing sports equipment, sharing medical equipment and so on are gradually into the ordinary people's lives.
Omni Bluetooth sharing bike lock looks stylish and the volume is small. Mobile APP search the signal issued from the bluetooth,then connecting to the bluetooth lock, it can send instructions to unlock, query the power, and check the switch status of the lock.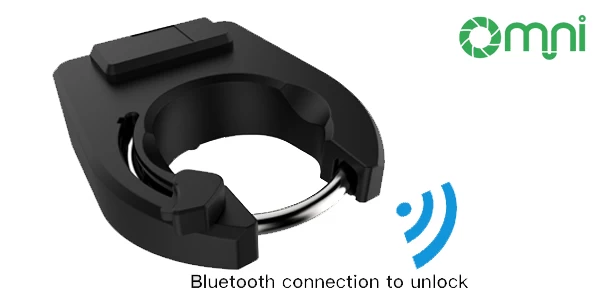 Omni bluetooth sharing bike lock main features
1. unlock efficient and stable: Mobile phone APP control, a key to quickly unlock within 3 seconds, the success unlock rate of up to 99%
2. Support electronic fence induction: achieve interaction with the electronic fence data through the Bluetooth signal
3. Solar panel active charging: built-in solar panel charging, no external power supply
4. Support wireless upgrade: wireless upgrade through the phone to enhance the lock performance, modify the relevant parameters
5. Waterproof anti-theft system: PC material to create, three anti-design, safe and reliable
6. Easy installation: no special customization of the vehicle, can be quickly installed.
A Brief Introduction to Sharing Bicycle Sweep Unlocking Workflow

1. Download the corresponding sharing bike mobile APP, after registration is complete, pay a deposit to use.
2. Open the phone APP, scan the bike's two-dimensional code, you can successfully unlock.
3. After the end of the sharing bike, pull down the lock, the end of the ride, in accordance with the requirements to complete the parking.
Bluetooth scan code unlocking principle details
Mobile phone APP scan code can get the information of the bicycle, two-dimensional code is the bicycle "identity card", including the bicycle ID, each bicycle is the only number, sweep two-dimensional code and manual input cycle number the same effect.

After the mobile phone sweep code, get the bike number, automatically sent to the cloud server to request the decision to unlock the information. The server receives the user request information and confirms it. If the status is good, the server agrees to request and sends the lock command of the designated bicycle, which is equivalent to the unlock key. Mobile phone APP to receive the server unlock command, the phone will unlock the lock (unlock key) to the bicycle lock chip, chip to receive information and confirm, and then through the circuit control lock cylinder to perform unlock action.