Bicycles also have turn lights
2017-10-19 15:40:52
A few days ago there is a section of popular friends circle, which said that if you walk on the road to see a driver drove a car suddenly opened the wiper,but the weather is sunny day at this time.Now, , you have to pay attention, she must be turned! Driving on the road, unpredictable driver driving is very dangerous, the most terrible thing is when the motor vehicle and non-motor vehicle mixing on the road, the bike suddenly turned the way . This situation is often scared rear motor vehicle driver in a cold sweat, but it is impossible to ask people who ride a bike to look around in the direction of each ride. So, omni's bike rear turn lights is a luck for driving!
Omni's C1 remote control bicycle turning rear laser light designing inspiration come from batman,which achieve function of left/right turning,braking alarming,safety laser light,etc function by the remote control fixed on bicycle handlebar to control the rear light.Offer great safety guarantee for cyclist during night time,avoid injury especially red light intersection may cause by vehicle.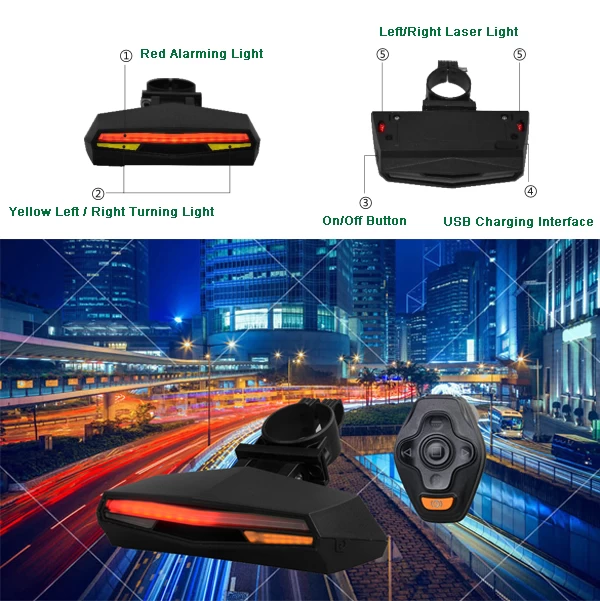 Installed under the bicycle seat, suitable for any number of bicycle frame. The rear turn light is controlled by a wireless model receiver mounted on the handlebar. When you want to turn in the ride, you can fiddle with the receiver in advance, the signal lights under the seat will be displayed in the direction of the left to the left of the yellow arrow light or the right yellow arrow light. This enhanced visual signal is clearly visible even in rain and snow haze weather. Simple design to change life,So that the rear of the car can predict the direction of the front bike in advance.
The rear turn light designed by Omni makes everyone riding more secure!