Chinese bike-sharing debut in Africa
2017-12-06 14:50:31
The Third United Nations Environment Assembly was held in Nairobi, Kenya, from 4 to 6 December. On the morning of the 3rd, local time, before the UN Environment Assembly, UNEP held a sharing bike tour in the streets of Nairobi to highlight the theme of "moving toward a zero-polluting earth" at the conference.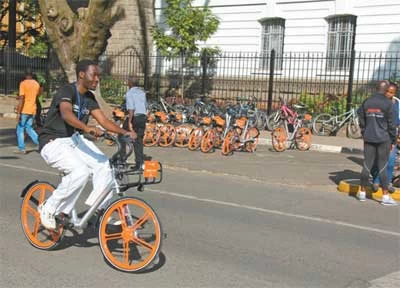 The morning on the East African plateau is exceptionally sunny and the sky is blue. Outside the Kenya International Convention Center, more than 200 volunteers wear neatly and ride a shared bicycle from China and completed a 3.5-km ride on the streets of Nairobi. Participants are the first time to experience China's sharing bike, excitement filled without words to express. Many people carefully asked about the use of sharing bicycles and marvel at the pace of development of the shared economy in China. The "pollution-defeating" cycling event was jointly organized by UNEP and Chinese companies.

"Sharing bike is very convenient, a great idea for innovation, and a gifted mind." Monagate Walter, director of Kenya's Youth Affairs Office, praised the sharing bike from China. He said that sharing bike can provide travel convenience for urban residents and reduce automobile exhaust pollution. "Sharing bicycle to Africa makes sense and the traffic in Nairobi is already very crowded." He said Africa is eager to embrace the new concept of environmental protection and that its cooperation on environmental protection will make Africa's cities smarter and more livable.

Erik Solheim, UN Under-Secretary General and UNEP Executive Director, told that the emerging shared economy in China is rapidly spreading all over the world and introduce the idea of green travel and environmental protection in a sharing bike to Nairobi which could help Improve infrastructure conditions, make the public more convenient travel. "There are many good practices China has made in promoting the construction of ecological civilization. Sharing bike is one of them."

Chinese ambassador to Kenya and Permanent Representative to the United Nations Environment Program Liu Xianfa said that sharing bike into the United Nations Environment Program is a concrete act of Chinese enterprises for global environmental protection. In the future, more Chinese enterprises and the public will actively engage in global environmental protection In the career.

Hu Weiwei, the founder and president of Mobike, said that this is the first time for mobike has started operations in Africa. It is also UNEP's recognition and support of the concept of "cycling to change the city." It is reported that since its operation in April last year, the mobike offers smart sharing bike service to more than 200 cities in 12 countries around the world and more than 30 million passengers use it every day.