Browse Categories
Subscribe

Get email updates on new products
Contact Us

Omni Intelligent Technology Co., Ltd.   
Tel:(+86)755-89208216   
Fax: (+86)755-89208219   
Add: Floor 11,building 31,Phase 3,Lianchuang Tech Park,No.21 Bulan Road, Longgang District, Shenzhen, P.R.China.
If you have any question,Please contact us,we will give you the best service! Contact Now
Real Time Position Anti-theft Alarm GPS Tracker IoT Locator for Vehicles
Support vehicle's real time control and the report state query Perfectly
GPS real time positioning,faster and accurate,no incertitude and worry
Anti-theft alarm and vibration monitoring,a great protective tool,no suffering great loss  
A geofence generated, great help as the vehicles can be in a radius around a point location or a predefined set of boundaries
Robust and secure bluetooth communcation
The past 180days'historical track playback supportive,it's clear about any driving track and time record
Various voice warning,voice is customized
Omni Intelligent Vehicles GPS Tracker IOT Locator
This built-in IoT locator can be used for cars, electric bikes, motorcycles, fleets, agricultural machines and construction machines.
Four Connecting wires are battery lock, controller, speaker and steel cable lock. 
Super functionality
1,Two positioning modes supported:single positioning mode and continuous positioning mode, with executing remote command,the vehicles location details can be checked,and positioning works with GPS,GLONASS,BeiDou,Galileo,WIFI;
2, 4G communication: With supported controller, this IoT locator can remotely access to vehicles' location,  battery power, temperature and other information through server command, and meanwhile, the riding speed and low battey alarm value can be remotely set by server command as well.
3, Vehicles'unlock: support bluetooth 5.0 communication,user phone APP scan vehicle's QR code,through phone network,the unlock command is sent to server,the server sends the unlock command to APP,which then sends the command to the IOT through Bluetooth to unlock the vehicle;
   Unloks with network:  when the mobile APP scans the QR code on the lock, the APP sends a command to IOT, which uploads the command to the server through the network. After receiving the command, the server sends the command to IOT to unlock the car.
4, Security supported: IOT has an acceleration sensor for detecting vehicle vibration,when vehicle unlocks but vibration happens, IOT actively sends a command to server.And meanwhile, the IOT will issue an audible alarm.
5,Vehicle faults reports to server via IoT while controller supported this function.
6,When the vehicle falls to the ground, the IOT reports it to the server.
7,When delivering, the IOT can turn into transport mode to reduce battery consumption.
8,Using this IOT, APP can exist transport mode directly while charging or not 
(Controller support required with this function).
9, OTA upgrade supported.
More specifications of Omni IOT Locator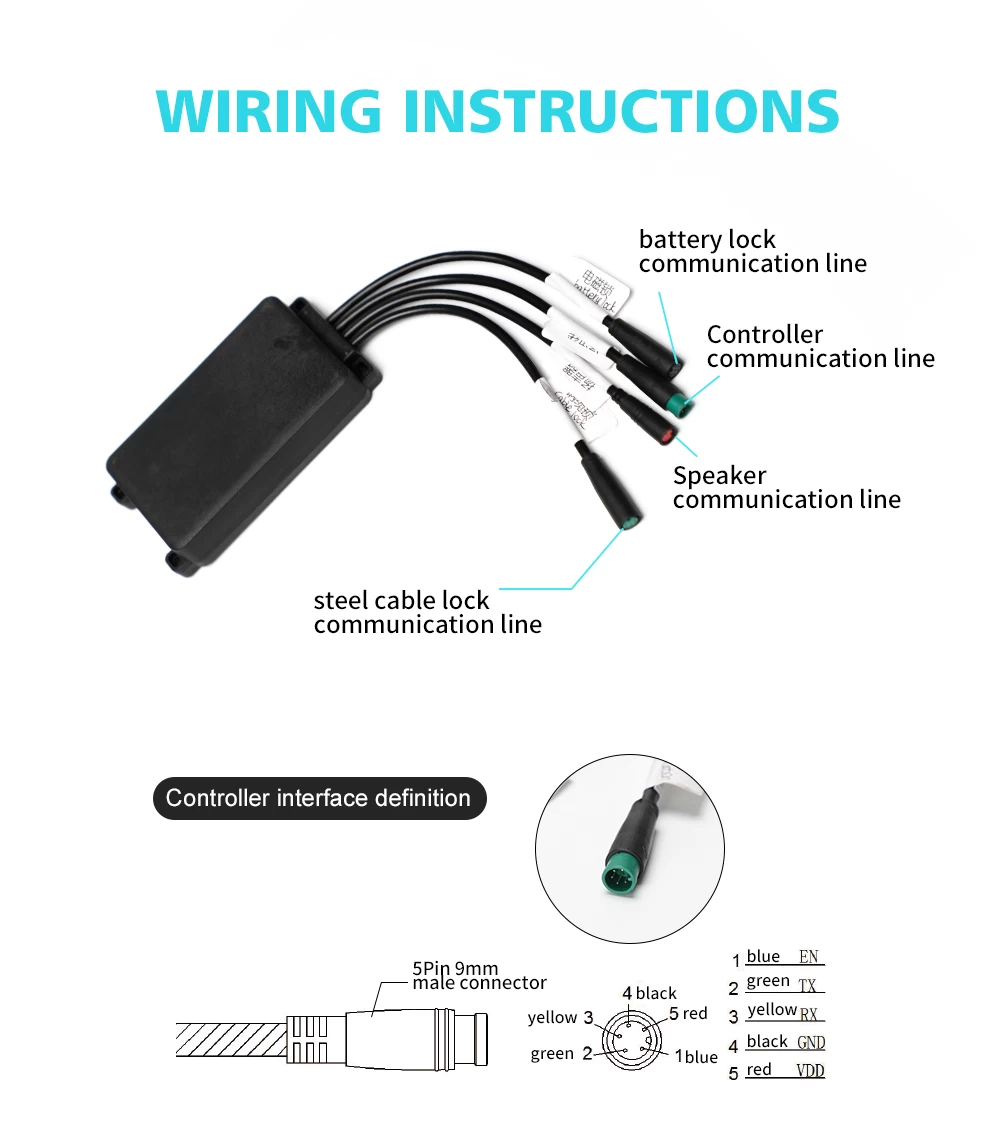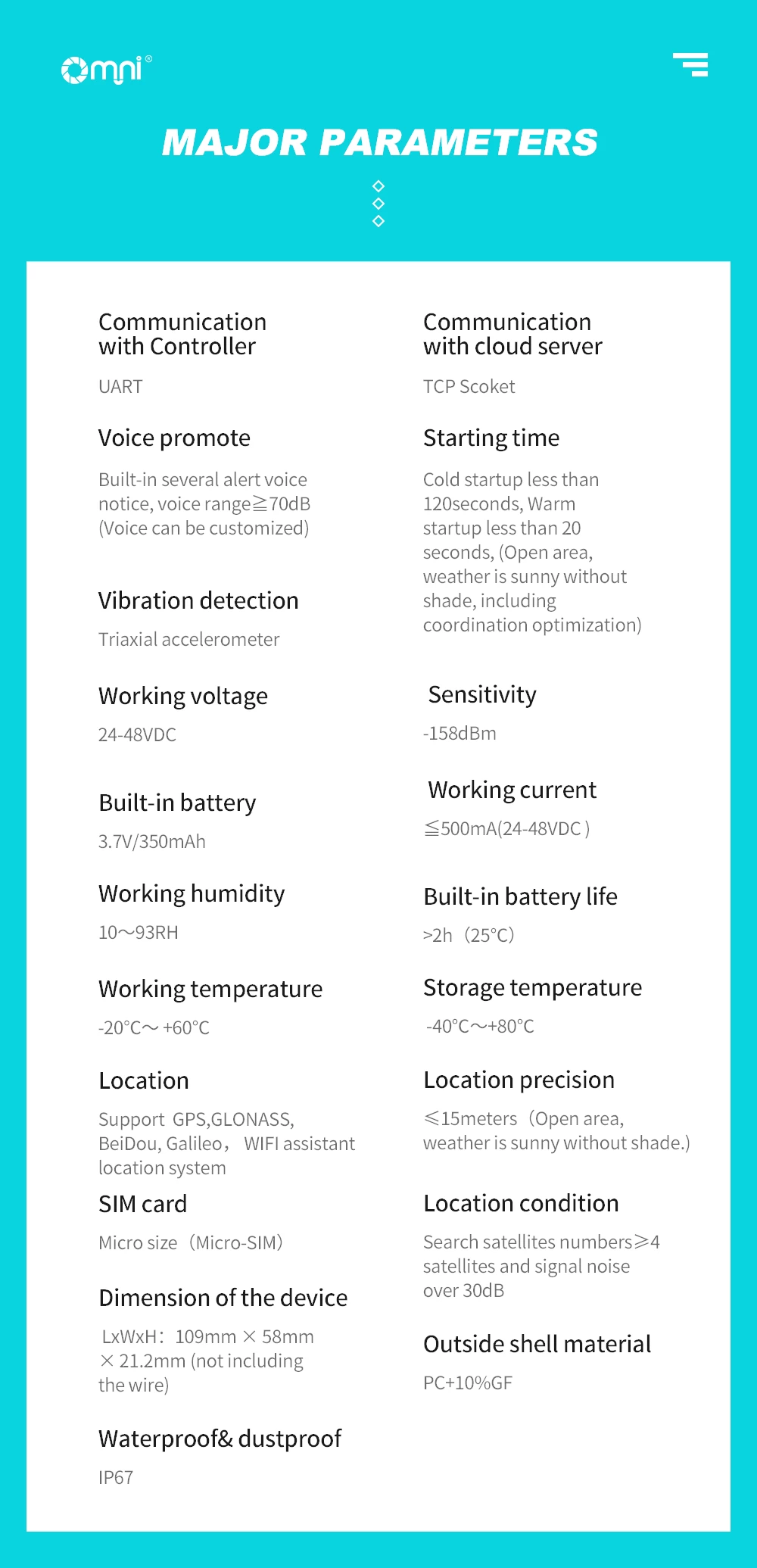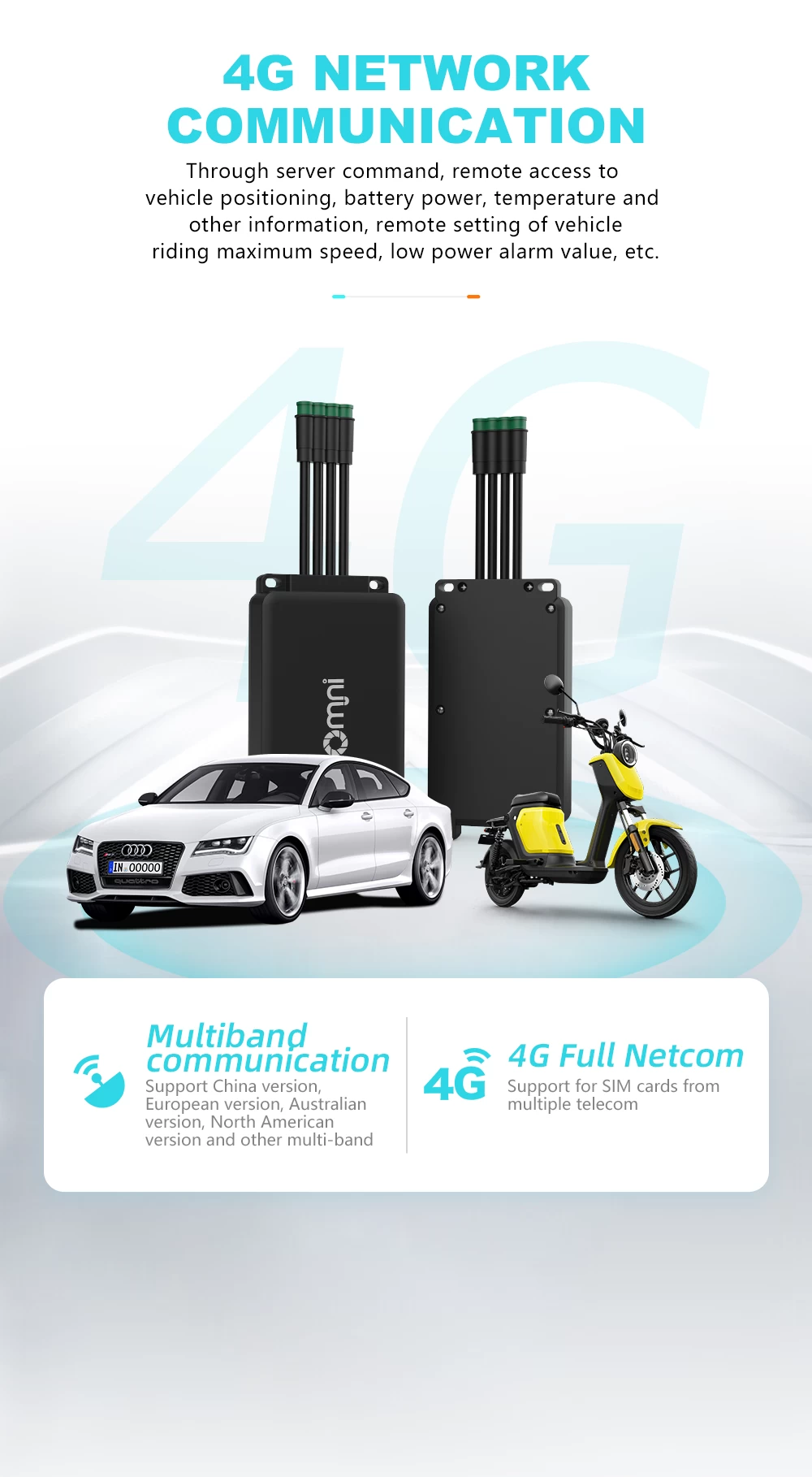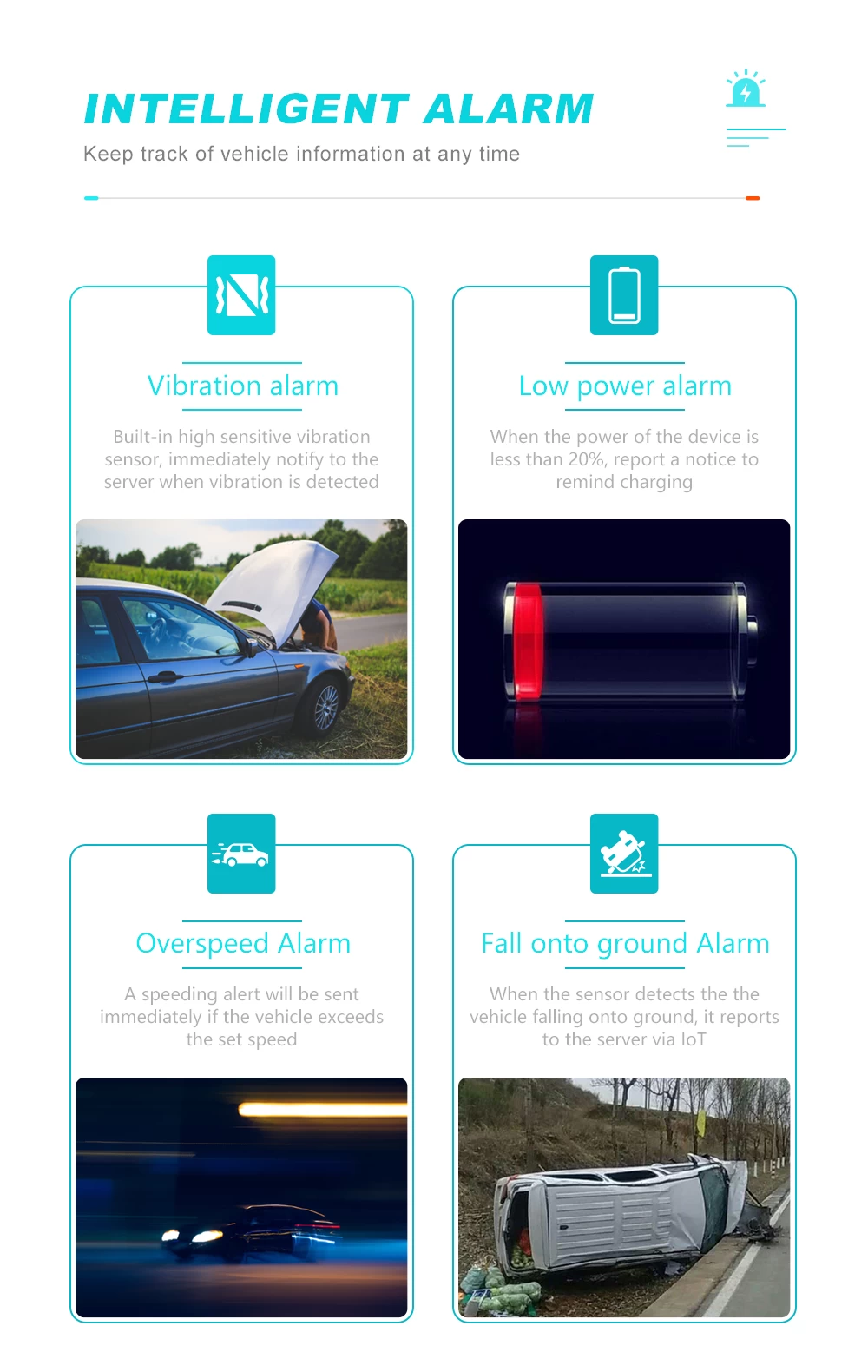 Shenzhen Omni Intelligent Technology Co., Ltd
Tel:+86-13926505109
Wechat:MaryLai-Omni
Contact Person:Mary Lai
PDF Show:PDF
Other Products