Omni sharing bike lock - solve the sharing problems for bicycle rental industry
Omni Original 2017-12-23 17:41:22
Sharing bike means that enterprises provide bike sharing services on campus, subway stations, bus stops, residential areas, commercial areas and public service areas, and it is a time-sharing rental mode. Bike sharing is a new environmentally-friendly shared economy.The essence of shared bike is a new type of vehicle rental business - bicycle rental business, which relies mainly on the smart bicycle lock.

The sharing bike has drawn increasing attention. Due to its compliance with the concept of low-carbon travel, the government is also in a goodwill observation period about this new thing.Sharing bike has quickly become an industry.
Shenzhen Omni Intelligent Technology create a bike sharing and bike travel platform for bike rental company, creating a "dockless bike sharing" model,Omni is committed to solve the problem of urban travel.Omni sharing bike lock R & D is mainly based on the following questions as a starting point for enterprises to solve the travel problems in the shared industry.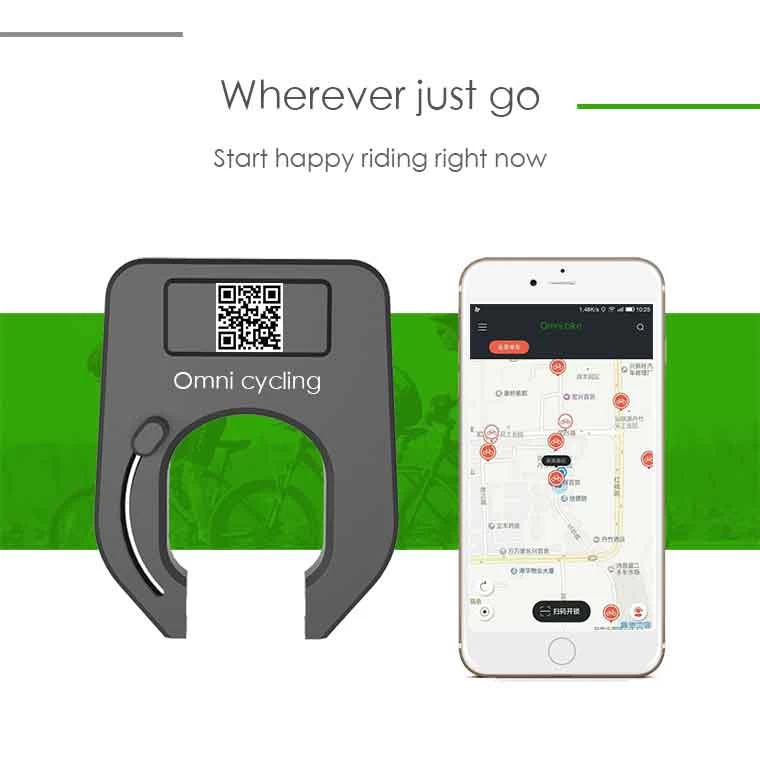 First, be sure to connect a wide variety of bicycle.
Through Omni sharing bike platform, you can connect the various bicycle manufacturers and users of the bike to become a shared bike platform, Omni offers custom bike sharing systems and shared bicycle locks for customers.

Second, Users how to find the sharing bike.

Omni smart lock idea is that the city's bicycles are always limited, but the city is infinity, so the user needs to locate the bike by positioning, and the system background also needs to know the operation of the bike through positioning.So need to use Internet of Things technology to keep track of the dynamics of the sharing bike.Omni smart bike configuration gps tracking module, users or operators can get the location of the sharing bike information through smart lock GPS module.

Third, solve the problem that the user can not damage the lock.

Making bike sharing project to be profitable, we must ensure that there are not too many people who will own the sharing bike and can not get a bike by violent dismantling. Omni smart bike lock made by PC material,which is safe and reliable.

Fourth, it must can be used in a wide variety of weather.

As the openness of the shared bicycle model and the complexity of the city's operating environment, including weather, which have a significant impact on shring bike, so sharing bicycles ensures that they can be used in a variety of complex weather environments.Omni smart bike sharing locks are waterproof, shockproof, anti-corrosion features, which suits for outdoor driving.

Fifth, improve user experience

Sharing bicycle unlock stability is one of the most intuitive user experience.The bicycle lock unlocks efficiently and stably, which perfectly combinating with the phone APP, unlocking within three seconds, and the unlocking rate is up to 99%.