Mobike won the 2017 Earth Guard Award to lead the global green new trip
2017-12-19 18:08:47
Recently, Mobike frequently appeared at the World Internet Conference. In addition to demonstrating leading scientific and technological achievements,Wang Xiaofeng, mobike CEO proposed "new travel" concept has also become the focus of global attention.On December 5,Mobike won the 2017 Earth Guard (Business Excellence Award) awarded by the United Nations Environment Program.UNEP Commemorate the great contribution Motorcycle made on driving green trips,alleviating air pollution and changing climate.Honor constantly praised at the same time, mobike has set a benchmark for walking in the "new travel" era to explore the forefront of the sharing economy.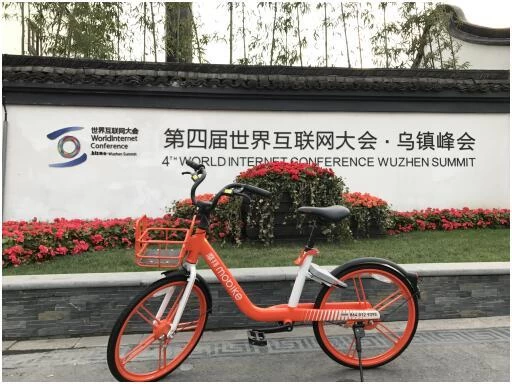 With smart bike sharing to promote urban mobility changes, mobike's remarkable results are evident.According to the "2017 Shared Bicycle and Urban Development White Paper," smart-sharing bike have significantly reduced the proportion of car trips,and bike cycling doubled to 11.6%,with the bus, subway tied for the city's public travel three travel modes.Low-carbon travel environment has become the user's travel habits,especially in solving the problem of air pollution,data show that the cumulative mileage of Mobike users is more than 18.2 billion km,which equivalent to 4.4 million tons to reduce carbon emissions.Based on this, Mobike was named one of "50 Companies Changing the World by 2017" by Fortune, a leading US media.As Mobike CEO Wang Xiaofeng said during his speech at the Internet conference,in the "new travel" era, relying on artificial intelligence, big data and Internet of Things technology, mobike led by the "Cycling - Bus & Metro - Cycling" combination of travel has become an indispensable means of travel in the city.
As an industry leader, Mobike occupies an absolute advantage in all aspects of user base, frequency of use, reputation of the industry,In promoting scientific and technological innovation and product services escalation process, Mobike reflects the pattern of the big country brand feelings and responsibilities.Mobike dockless bike sharing mode with technology innovation & business innovation make it easier for people to ride on the road to alleviate urban problems such as traffic congestion and air pollution.This innovative business model that creates visionary awareness in the field of eco-transportation not only makes environmental protection a life-style but also become a sustainable business model.